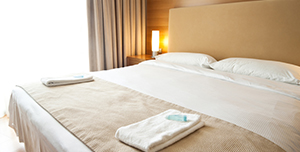 There are many options when it comes to buying sheets, but what really defines a high-end set of linens?  Usually it boils down to personal preference, but three factors can determine quality:  fabric, thread count, and weave design.
Cotton is the most preferred fabric for bedding. However, innovations in the manufacturing process have introduced polyester into the mix. Microfiber polyester sheets offer an affordable and soft option, but they are less breathable. Cotton itself comes in several forms. The highest-quality sheets use cotton with long fibers that are spun into fine yarns. These include Egyptian, Pima, and Supima.
As thread count increases, it's more likely that the sheets will wear well and even soften over time. Since there are tricks to make the thread count higher, such as twisting multiple yarns together, a sheet with a higher thread count may actually be of less quality.  A good rule of thumb is to stay between 200-800 thread count.
Finally, the fabric weave can determine the comfort level of sheets. A Sateen weave offers a soft, luxurious feel, but sacrifices the durability of the product. A sturdier sheet can be found with a Percale weave with a thread count of at least 180. Lastly, Combed cotton has had all the short fibers removed from the fabric creating a strong, soft fabric.