Efficient, Green Technology Makes a Difference: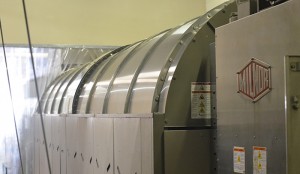 We have a state-of-the-art 43,000 sq. ft. facility that processes on average of 30,000-50,000 pounds of linen each and every day. One unique feature in our automated facility is our Milnor tunnel washing system.
Tunnel washers are specially designed to extend linen life in comparison to standard centrifugal washing systems and can process 3,000 pounds of room linen per hour. The tunnel also play's a key role in our Green Initiative, requiring less water to process linen.
Signature Linen Plant Equipment:
(1) Milnor 8 Module Tunnel Washer
(4) Milnor 300 System Dryers
(4) Milnor Conventional Washers –  160 lb., 100 lb., 80 lb., 60 lb.
(3) 130 lb. Conventional Dryers
And many other energy efficient machines
Facility Highlights:
43,000 sq. ft.
Soil Barrier walls
Spot cooling system
Fully automated chemical injection system